Have you heard of beam button?
If you are a smart and up-to-date person then I am sure you have heard of it. If not, then don't panic. I am here to let you know and make you up to date.
Maybe you have noticed that long ago, people wore a badge in their chest in order to show the world their passion, their opinion, their support, and whatever they want to show the world. Some people called it the 'pin'.
Those days are gone. Now there are a lot of options to show your passion or thoughts. Now you have social media, websites, and other social networks by which you can share your thoughts online and show the entire world what are you standing for.
In addition, there are some other methods through which you can share your thinking and passion offline as well. Beam button is one of those methods, a wearable display button that allows its users to have fun as well as be creative with slideshow, Gifs, and beams offline. Basically, this beam badge is a smart button that will enable you to express yourself and show the world what you are thinking, what are you care about.
With this smart wearable button, you can create a community wherever you go. Now, let's have a look at the honest review where I will discuss its specification, design, and other features.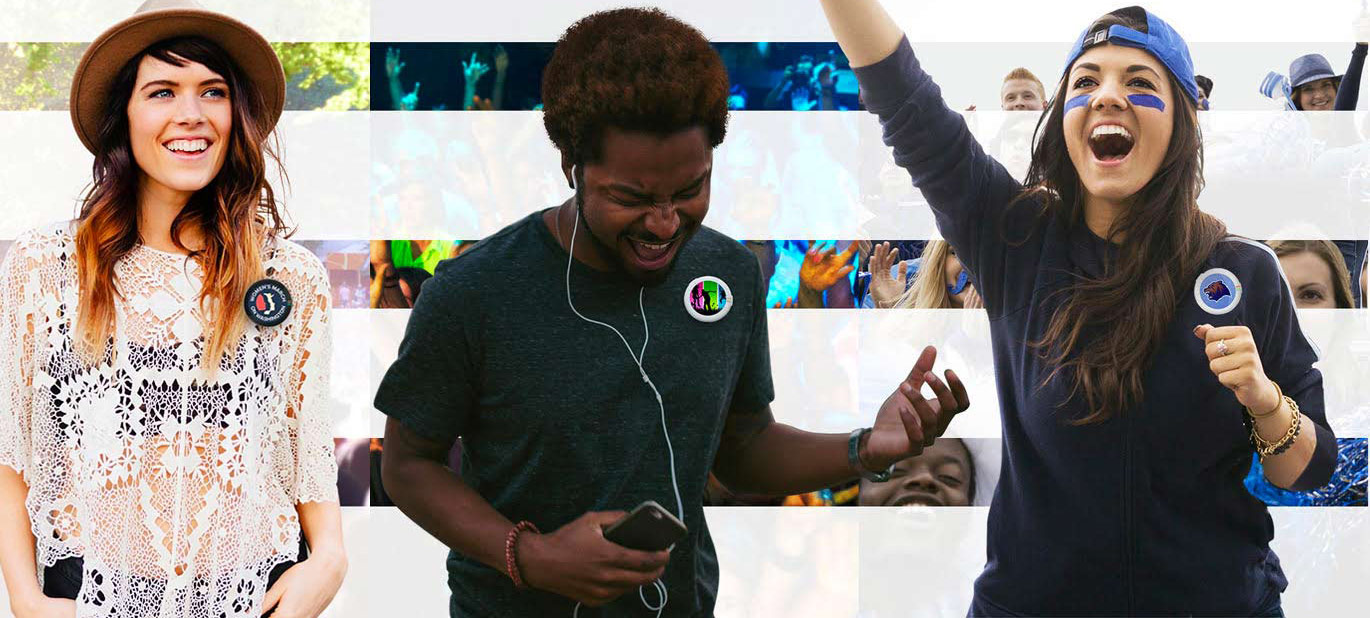 BEAM BUTTON SPECIFICATION
The beam badge has these following specification:
High-quality display:
The beam comes with Tons of pixels. You will get a 400×400 pixel display that contains millions of colors (24 bit) along with a vibrant attractive AMOLED screen that will catch others attention in a minute and start conversion fast.
Large Capacity:
This beam has the capacity of keeping 100 Beams, GIFs, and slideshows on the BEAM. So you can show as many messages as you want.
Fast Wireless:
It has the latest and fast Bluetooth technology that enables you to send beam to your BEAM very fast. This will help you to keep yourself up to date.
Smart Sensors:
For night use, it comes with the Ambient light sensor that enables the button to deliver the best and brightest image. So no matter you are in a community at night or day, you can surely share and express your opinion.
Accessories:
You can wear the BEAM buttons with the handy magnet set, secure pin, backpack and handbag strap, and lastly the fashionable skins. That means you can attach the button to your garment or your bag or wherever you want. I thought once that the large pin might damage the clothing, but luckily the magnet holder is strong enough that provides a good way to attach the button to the clothes.
BEAM BADGE DESIGN AND FEEL
When it comes to design, let's talk about the color first. The attractive button comes with two colors. The black and the white. This will help you to match the button color with your clothes. It is lightweight and the size of the button is perfect for attaching with. It measures only 0.4 inches thick and 2 inches in diameter. Actually, it is a little bit thinner than the apple watch.
The button is surrounded by the plastic and the plastic is matt on the back and glossy on the front. The rear side of the button is made of metal that makes the button more durable.
This plastic surrounding may look slightly cheap, however, the OLED screen will catch the attention. The screen is vivid enough and bright. And the good thing is, you can enhance or lower the brightness through the app.
There are 2 buttons on the badge. The first one is the power button which is located at the 10 o'clock position and the second one, which is called panic button, is located at 3 o'clock position. This one is also called the function button. And lastly, a micro-USB port is available at 6 o'clock position for charging.
BEAM OLED BADGE BATTERY LIFE AND DISPLAY QUALITY
The company 'BEAM' claims that the button battery will last up to 24 hours. However, it highly depends on how you use it. It has some power management options that help to last the battery life longer. It includes auto-dimming, auto-brightness, and auto sleep as well. After five minutes, the button becomes dimmed but it is never shut off.
When it comes to display quality, it is quite impressive. Some people say that the quality of this button display is better than the apple watch. Though the resolution is not that higher. But at the highest brightness, it is brighter than the display of the iPhone x. so you can easily imagine how good the quality of the display is.
DISPLAY OPTIONS OF BEAM AUTHENTIC WEARABLE
The beam authentic wearable enables you to display a static image, slideshow, or Gifs that are stored in the button. One thing I have mentioned earlier that the beam has the capacity to store 100 images. And the good thing is that you can set the time interval for the slideshow. The time intervals are:
Five seconds
Ten seconds
Twenty seconds
Thirty seconds
One minute
Five minutes
Twenty minutes
One hour and
Two hours.
PANIC BUTTON/FUNCTION BUTTON
One of the most impressive things of this button is its panic button or function button. The button is off by default, but you can enable it. To enable the button you need to toggle it in the BEAM App and the app will request you to set up your name and your message. And finally, you need to select four mobile numbers from your contact list.
Why four? Because the beam has the ability to send the message you have set and a map link to the location of yours to up to four people. To activate the feature, you need to hold the panic button for ten seconds. After holding for ten seconds, the Beam OLED badge will flash a red signal for three seconds. It will show as an indication of activation. And a green signal will be flashed when the message has been sent.
Maybe you are thinking that why you need this message delivering when you have the phone right? But in a rally or a protest or a party, it is quite a great and cool way to send a message and your location to your partner. Also, this helps your partner to find you easily.
TOP REASONS TO BUY BEAM BUTTON
Maybe you are thinking that why do you need a button like this when you can take a regular button? Or maybe you are not thinking anything. However, let me tell you some of the main reasons for buying the smart button.
Wear your own passion and express yourself
The beam badge enables you to create your personal design or upload a design that you like from your computer, or whatever you want. The control is your hand. So wear your passion and show the world your passion.
Versatility of use
The button has the capacity of storing up to 100 images. That means you can easily keep various types of images to show support or to attend a rally or to show your love. For example, you go to a rally in the morning for cancer awareness. Just add a cancer awareness logo to your button and show your support.
In the noon, you go to a political rally. Then just push the button and switch to the logo of your political party to show them that you are one of them. And in the afternoon, you go to see a hockey match of your favorite team. Just switch the logo from political to your hockey team and show them your love to them. Isn't it awesome?
Hire me
Are you going to an event of networking? Want to show people you are creative and confident? Want to grab the attention of others? Do a simple work.
Attach the button in your garment and add a slide that is telling "hire me". How it will be? This will grab the attention of others and it will show them how creative as well as confident you are, isn't it? This a great way to promote yourself.
Add a slideshow
Want to say more than a single thing? Just simply create a nice slideshow that contains all the things you want to say. You can make a slideshow of 10 beams at a time and also you can have those change on a specific amount of time you have set.
Don't panic
As I mentioned earlier, the beam digital display features a panic button by which you can send a message up to four people. Want to let your partner where are you going? Simply send the message. Walking home alone? Simply push the button and let others know.
In addition, if you lost your phone and want to let your friends know about you and your location, there are no better alternatives than this button.
Wear it however you want
In the specification part, I have mentioned that the beam comes with some accessories that will enable you to attach the Beam badge anywhere you want. No matter you want it to attach in your carrying bag, or in your garment.
SOME DRAWBACKS OF BEAM OLED BADGE
With these so many benefits, there are some drawbacks as well. Before buying this item, you need to know about these.
Price
Some people find it a little bit expensive since the regular buttons they have been using are so much cheaper.
Software problem
Since the button does not work with the computer, you will not be able to create an image and upload to your beam. What you need to do is to send the image to your phone first then only you can set the image to your button.
Battery life
As I mentioned earlier, the company claims that the battery life of the button is up to 24 hours. However, most users claim that it does not last that long. However, it depends on the use. If you use Gifs, then surely it will not last that long.
FINAL CONCLUSION – SHOULD YOU BUY IT?
The button is not just a button, it is an idea to express yourself, to show the world your passion. However, one thing you need to know that it is not for all types of people. It is for only those people who want to express themselves, who want to show the world confidently what they are and what they care about, who want to show their love to an organization, a team, or a community, and lastly, of course, those who have a gut to spend money to have fun. If you are one of those people then you can go for it. The decision is yours. Are you ready dear to express yourself?